International IFRS Conference in India – My Views and Insights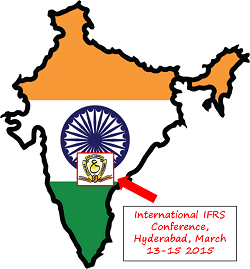 Today's article is totally different from any other post on this website.
Why?
I was invited to participate in an International IFRS Conference in Hyderabad, India on March 14-15 2015 and here, I'd like to share my own impressions and experiences from the touch with India's professionals, professors, teachers, research scholars, practitioners, students and of course, people!
Overall, the words can hardly describe my view of amazing 5 days I spent in India, but at least, I will try.
If you are reading this and think it's not for you – that's OK, and my next article will be again totally focused on some practical IFRS issue.
But in my opinion, there's always something to learn from the experience of others.
Believe me, for me, it's very unusual to write this sort of personal report, but I feel obliged to do so due to all great people I met. It's my word of thanks.

Impressions from India
Let me start with my impressions from India first, as that's what interests you the most according to your e-mails.
It was my very first visit in India and coming from European country, I expected totally different experience.

What did I like about India?
India's people
Nothing prepared me for Indian people. Their care, attention, hospitality and friendship simply amazed me.
Literally everybody whom I met was very kind, having nice discussions and trying to help me (a bit clumsy in foreign environment).
For example, I was lost in Indian food and yet there were many people helping me out to choose something that I can manage to eat without my mouth burned. 🙂
I was even invited to an Indian house for home-made Indian lunch and that was a unique experience, too! (I write a bit more in my word of thanks).
That's not so typical for Western countries – we would simply take you to the good restaurant, as we usually show homes only to the best friends.

Streets in Hyderabad
When we traveled for a trip to Golkonda fortress by bus, it took about 90 minutes and I could not help myself from staring from the window all the time.
I was fascinated by the streets, full of people, little fruit stalls, beggars, vendors of various things, cows and hens searching food on the pile of trash, shiny pharmacies, numerous hospitals, inscriptions "Do not urinate here – fine of Rs.500" on the walls…
Lots of colors, smells, sounds and impressions. I really loved it.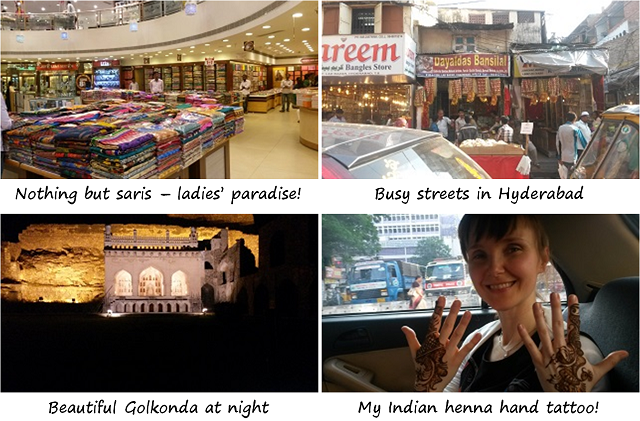 What I did not like in India
Traffic
Oh my goodness, Indian traffic is "intuitive and responsive" as one good man wrote me. In other words – crazy and unless you are an Indian or a big adventurer, do not drive there.
It seems no one follows the rules, there are no lines on the road and you simply go where the free space is. Everybody honks and it makes an awful sound.
The buses are a special case. I wonder how the tickets are checked there, as the buses are literally crowded, with people hanging from the door and another people hanging on these people (maybe they hold each others' pants).
I could not keep my mouth closed when I saw it – it was dangerous and funny at the same time, but people seem OK with that. Yes, you can get used to anything.
And that's about it. Apart from traffic, I admired almost everything I saw, heard, tasted, smelled and touched !

Impressions from the Conference
Let me go on with my impressions from the conference itself.
It's full title was "Implications of IFRS for Corporate Reporting Practices" and the conference was organized by the Department of Commerce, Osmania University in Hyderabad, India.
I must say that organizers did the great job, especially Prof. K.V. Achalapathi who was the "father" of the conference. I really admire that man and I wish to have such a great organizational talent as he has!
Sure, the credit goes to all coordinating team, too and I thank them in the last paragraph of this article, too.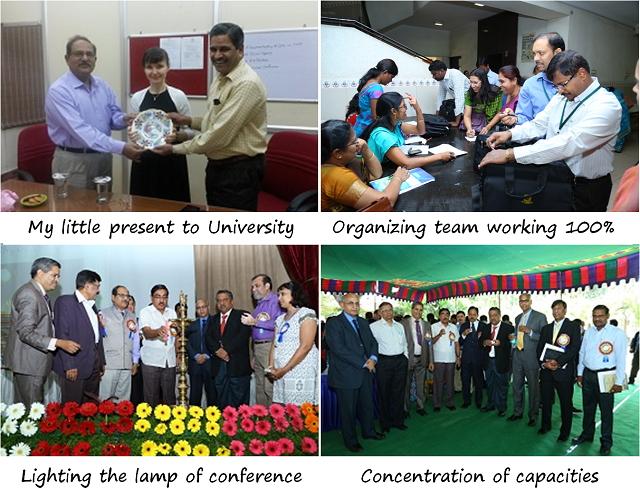 What did I like the most about the conference?

Professional speakers
Prof. Achalapathi was able to invite and gather top accounting and financial brains from India to speak personally, including:
Mr. CA A. Chopra (Chairman of NACAS);
Mr. CMA Dr. A.S. Durga Prasad (President of The Institute of Cost Accountants of India);
Mr. CA S.B. Zaware (ICAI),
Mr. Prof. G. Soral (General Secretary, Indian Accounting Association),
and really, I can't name all of them, but I enjoyed every single speech and presentation.
But not only India was present. Professor Achalapathi organized a live video call with the IFRS Foundation members, followed by Ms. Amanda Gonzales (teacher in Nebraska University USA, former IASB Project manager).
On top of that, 2 great Indian speakers related to IASB gave their presentations:
Mr. CA K. Prabhakar Rao, currently director in KPMG USA, who spent 10 years creating all these IFRS standards for us directly there in the IASB (yes, understand: former member of IASB and the only one from India to this day)
Mr. CA Raghava Tirumala, technical manager, IASB London.
These gentlemen spoke a few times, but I especially liked their tandem presentation on the newest IFRS 15 – I think it left many people speechless! 🙂
And of course, several practitioners – top managers from high profile companies had their turn, too, including managers from Deloitte, Grant Thornton, Ernst & Young, and many others.
So as you can see, if you are into IFRS, this conference was packed with knowledgeable and resourceful people and all participants left full of the newest information and knowledge.
Cultural program
We all know that life's not only about working and studying, isn't it?
Prof. Achalapathi and his coordinating team invited all participants to light & sound show in Golkonda fortress followed by a dinner.
For me, it was really stunning to learn a bit about Indian history and Indian food, too – although I must admit that with my European palate, sometimes I had difficulties to eat it without a fire in my mouth and tears in my eyes – but it was worth it. On the other hand, Indian sweet deserts are simply delicious!
The other day, every participant was invited to a Flute ensemble concert with the leading artist Ms. Jayprada Ram Murthy, absolutely adorable woman with all her Indian bamboo flutes, surrounded by her male colleagues.
Here's the short sneak peak (I'm sorry for the shaky quality of video, I'm not really good at playing with my mobile):
What's on the "IFRS table" in India?
From what I heard during the conference, the BIG ISSUE in India right now is a mandatory implementation of IFRS converged Indian accounting standards for:
Companies with net worth Rs 500 crore or more (for non-Indians: crore = ten million), which is approximately USD 80 mil., by 1st April 2016, with the exception of banks, insurance and non-banking financial companies;
Companies with net worth of Rs 250 crore, which is approximately USD 40 mil. and those listed in any stock exchange outside India, by 1st April 2017.
It is estimated that the first stage will affect about 350 companies in India.
Although these deadlines were postponed a few times in the past, it is strongly believed that this time, they are final and fixed.
The truth is that many Indian companies with foreign ownership or participation already prepare their IFRS financial statements, and therefore, lots of research papers presented examined the impact of IFRS on the key performance indicators.
Interestingly, according to researches, the results are not really consistent – of course, because while some industry may not show a big IFRS impact, the other industry can be affected by totally different rules.
However, there's one common fear related to IFRS convergence and mandatory implementation in India:
Lack of qualified human resources.
It's true: if there's not enough knowledgeable people capable of working on IFRS reports, who would then do the job? Expensive foreign consultants?
So yes, there's an urgent need for training the right people. Although the first steps on an academic ground were made (e.g. there are some IFRS diploma studies available in India), the current status probably does not produce sufficient numbers of highly qualified professionals.
But here's your chance, dear Indian students reading this article:
Go for IFRS studies! Your knowledge and skills will be highly demanded and the chances are that you'll earn much more. Remember, scarce resources = expensive resources!

My message to all presenters of their research papers, scholars and students
Besides listening to all key speakers in the conference, I listened to all research scholars presenting their papers about their IFRS research and results.
To be totally honest, my impressions from this part of the conference are mixed.
Some of the presentations were really insightful and well prepared, but some of them lacked the sparkle and sometimes, the results were a bit confusing.
What makes a difference between great research and average research?
Simply speaking – it's the attitude.
When you do the average job, you get the average results.
In today's world full of competition, you need to be exceptional to stand out from the crowd.
Yet I felt that some researchers did their job just with one purpose: to get record. There was no intention to help someone with the research results.
Please, in anything you do, do it with passion and care. Only that way you'll be the exception and you'll stand out from the crowd.
And if you stand out from the crowd, you'll be able to bring something to other people and to help. Of course, you'll get more recognition and hopefully money, too.

My Word of Thanks
To finish my short report, I would love to thank all the people in the conference. I cannot name all of them – that would make a long list – but let me try:
Prof. K.V. Achalapathi – Sir, thank you for putting up such a great event and for inviting me. You are a man of action with the heart and brain in the right place. It was a big success and a great job!
Professors from Department of Commerce, Osmania University, Hyderabad – Ladies and gentlemen, thank you for accepting and welcoming me, for your presents and your time with me, I really appreciate!
My subscribers who came to see me, especially K. Suman Kumar and K. Hima Bindu (thank you for carving out the time in your busy schedule just to talk to me and also for your lovely Ganesha present!), Neha, Praveen, Suman, Srinivas, Rao and all whom I met and talked to.
My subscriber, Mr. Pravin Bhushan, who could not make it to the conference, but he send me a package with Indian souvenirs. It was waiting for me at the University and I did not expect that, thank you so much for your attention!
Here, let me also put the special word of thanks to people who took care about me during my stay:
Ms. Divisha Golla – thank you for taking me to trip around the city, for getting me my Indian henna hand tattoo, for souvenirs, lunch and your time with me, it was my pleasure! You were like my mom 🙂
Rajagopal (Babu) – special thanks to you for your idea to invite me for the conference, for your care and for inviting me to meet your lovely family!
Ms. Bhanu Sireesha – I mention you the last on purpose as you were my closest friend there. Thank you for everything you have done for me: for our close talks, for your explanations of Indian stories, for your time in the temple and shops with me, for inviting me to your home, making a lunch for us and meeting your lovely daughter Vyahrthi and your husband. You will remain in my heart forever!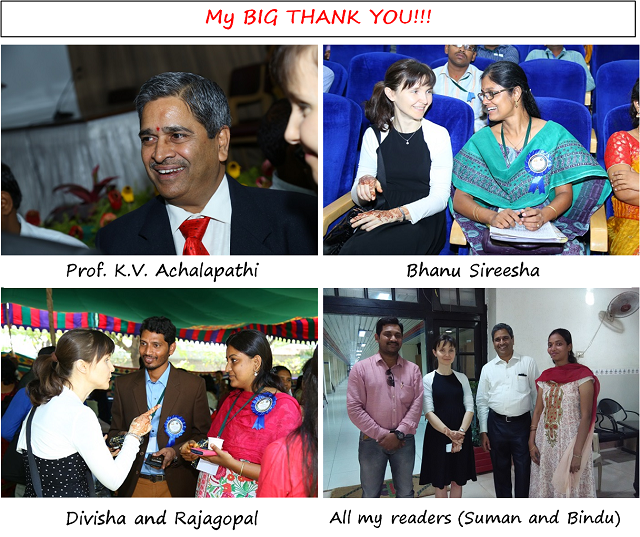 Finally…
OK, that's it for today's unusual post.
I hope you enjoyed my special report and the next post will be back to IFRS mysteries.
My trip to India was unforgettable lifetime experience and if you want to get the same, I encourage you to join the conference next year!
Please, if you have anything to say or comment, or if you participated on the conference, I'd love to hear from you. Leave me a comment right below. Thank you!
Tags In
JOIN OUR FREE NEWSLETTER AND GET
report "Top 7 IFRS Mistakes" + free IFRS mini-course
Please check your inbox to confirm your subscription.